* The Allman, Pitchell, King, Charles Band (Bull Run Restaurant)
Name:
* The Allman, Pitchell, King, Charles Band (Bull Run Restaurant)
Event Description: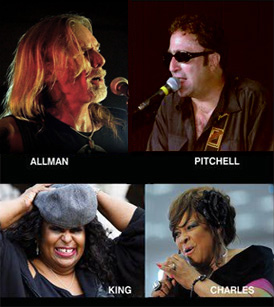 7-21-2017
The legends live on!
Michael Allman (Son of Gregg Allman)
Jeff Pitchell (voted "Best Blues Musician" in New England)
Claudette King (daughter of BB King)
Sheila Raye Charles (daughter of Ray Charles).
Michael Allman, son of Gregg Allman, not only looks and sounds like his father, but he is an original songwriter who performs many of the Allman Brothers greatest hits! Watch Michael HERE
Jeff Pitchell, singer/songwriter and guitar player extraordinaire, was invited last year to perform with the Allman Brothers in NYC to a sold-out Beacon Theater. Blending Stevie Ray Vaughan, BB King and Jimi Hendrix with his own soulful chops, Jeff has won many National & International awards. His own song "Eye for an Eye" won an International Songwriting Contest and was recently recorded by the legendary John Mayall. He has shared stages & licks with BB King, Ted Nugent, Phil Lesh of the Grateful Dead, J Geils and many others. Watch Jeff HERE
Claudette King is the youngest daughter of iconic blues master B. B. King.
She is quick to cite her father as her main inspiration. Trained in the gospel of the Baptist church from age 13, King was mentored by two legendary singers: Aretha Franklin & Etta James. Blues, Jazz, R&B and Soul are truly in her blood.
Watch Claudette HERE
Sheila Raye Charles, daughter of the incredible Ray Charles is a singer/songwriter, jazz, gospel and soul artist. She creates her own distinct sound and delivers "spine-tingling" renditions of her father's best known songs from "Georgia" to "Hit The Road Jack." Incidentally, her dad was voted by Rolling Stone magazine as the 2nd greatest singer of all-time!
Watch Sheila Raye HERE
With Michael on lead vocals, Jeff on guitar with his band Texas Flood, Sheila Raye and Claudette on backup and lead vocals, this band is a Texas Twister!
VIDEO (Regent Theater) - VIDEO (MidnightRider) - VIDEO (Pitchell w/Allman Bros)
Buy Tickets